Accessibility Exhibition Gets 'Second Life' in Virtual Museum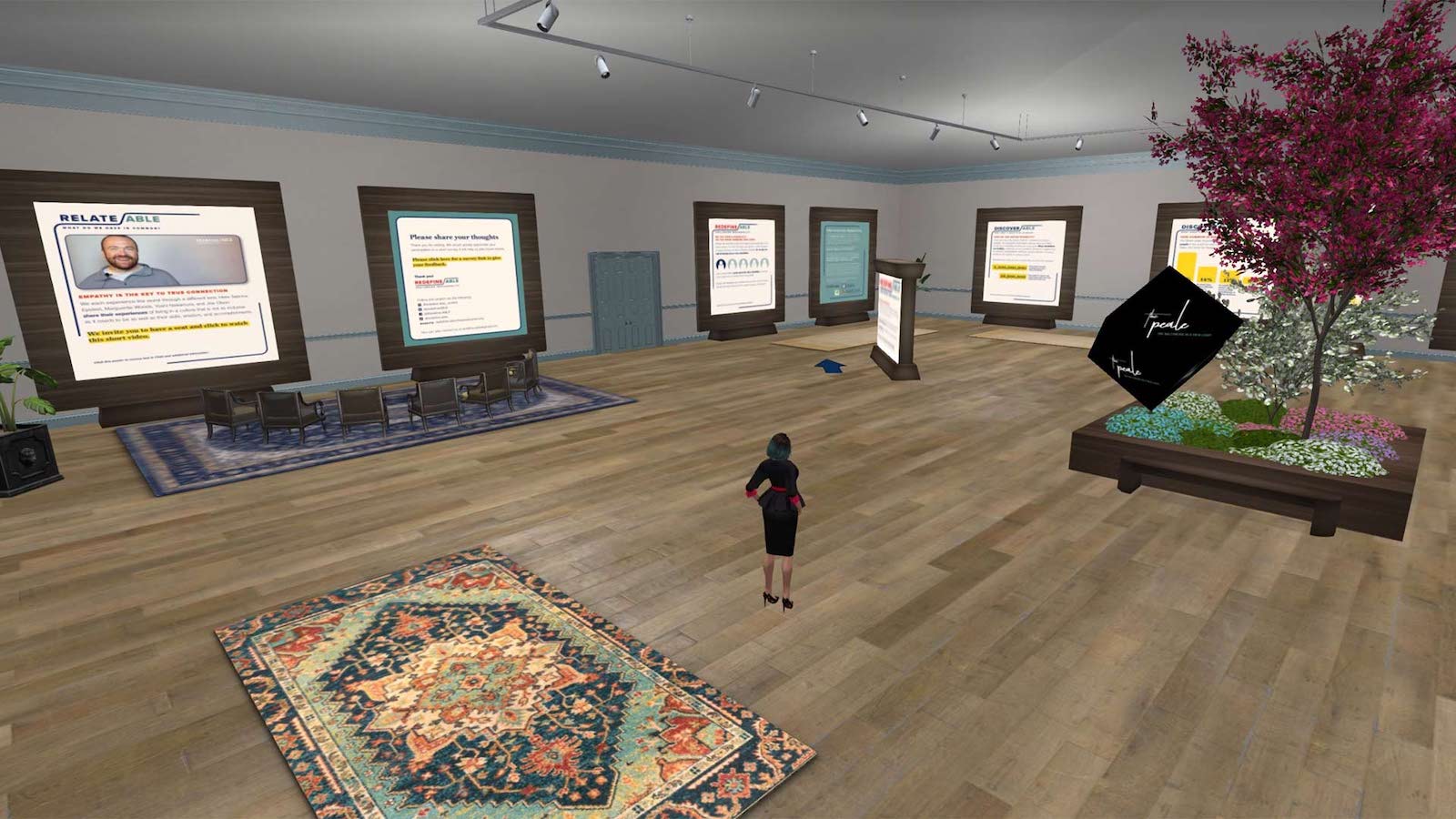 'Redefine/ABLE: Challenging Inaccessibility' now open.
By Jessica Weiss '05| Maryland Today
With most area museums still shuttered due to the COVID-19 pandemic, a University of Maryland design professor and her students have organized a way for people to experience an exhibition addressing diversity, inclusion and ableism from home.
"Redefine/ABLE: Challenging Inaccessibility" is open now at the Virtual Peale, the Peale Center for Baltimore History and Architecture's newly launched 3D virtual space, created in Second Life, an interactive online world.
Although "Redefine/ABLE" was originally intended to be installed in two physical locations—the Carroll Mansion in Baltimore and the Herman Maril Gallery on the UMD campus—and include multiple sensory experiences, the virtual exhibition aims to mimic the feel of a true museum. It offers a visual and audio experience and is also screen reader-friendly.
The exhibition explores the realities and challenges faced by people with disabilities and interrogates the idea of "normal" in historical, cultural and ethical contexts.
"It's a very immersive way to be in a space," Associate Professor of Design Audra Buck-Coleman said. "There's warmth and humanness, and in many ways it's more accessible than a physical space as visitors can move around how they like. They can even fly."
Students in Buck-Coleman's graphic design cohort in Fall 2019 set out to share unheard stories from the disability community and to use design to create a model of more inclusive, accessible spaces. They partnered with the Peale Center and three institutions in the United Kingdom—University of Brighton, the Royal Pavilion and Museums and the De La Warr Pavilion—to plan an exhibition that would prompt visitors to reconsider ableist language and share their own stories about disability. The exhibition would involve the physical transformation of both museum settings for improved accessibility, such as through additional ramps and widened doorways.
But in mid-March, just two weeks before the exhibitions were supposed to open, COVID-19 forced the closure of both spaces. By June, it was clear they would remain closed through the summer.
As originally planned, the Peale launched a website dedicated to the exhibit and its content. "Redefine/ABLE" is also on social media via @redefine.able_exhibit (Instagram), @redefine.able (Facebook), @redefineABLE (Twitter), and TikTok.
But the gallery announced that it would also extend into Second Life, allowing visitors to explore the exhibition from "inside" a virtual version of the 1814 museum building. "Redefine/ABLE" was the Virtual Peale's first-ever exhibit.
Redefine/ABLE Creative Director Maiu Romano-Verthelyi '20 was one of two students who stayed involved over the summer—after she completed her degree in art—and helped transition the exhibition into the virtual world.
"Working on this project really opened my eyes to the power designers have to change people's experience of the world," said Romano-Verthelyi. "I wanted to stay on and see it through."
She was disappointed to lose components of the original exhibit design, from QR codes to a marble voting station to a mechanism to visualize color blindness. But, the virtual world also "brought a lot of accessibility to the table," she said.
"You have people of all levels of tech understanding and a lot of anonymity in Second Life, so it's a great place to simply go and explore."
Find details on how to visit the "Redefine/ABLE: Challenging Inaccessibility" exhibition on the Peale Center's website.
The project was supported by Maryland Humanities, the National Endowment for the Humanities, the Maryland Historic Trust in the Maryland Department of Planning, the Maryland Department of Labor, UMD Friedgen Family Design Fund, the Institute of Museum and Library Services, and the U.K. Research and Innovation's Arts and Humanities Research Council.
Screenshots of the exhibit courtesy of Audra Buck-Coleman.