Bonnie Thornton Dill, Longtime Dean of UMD's College of Arts and Humanities, to Step Down this Spring
April 12, 2022 American Studies | Art | Art History and Archaeology | Classics | Communication | English | David C. Driskell Center for the Visual Arts and Culture of African Americans and the African Diaspora | History | Joseph and Rebecca Meyerhoff Program and Center for Jewish Studies | School of Languages, Literatures, and Cultures | School of Music | School of Theatre, Dance, and Performance Studies | Linguistics | Philosophy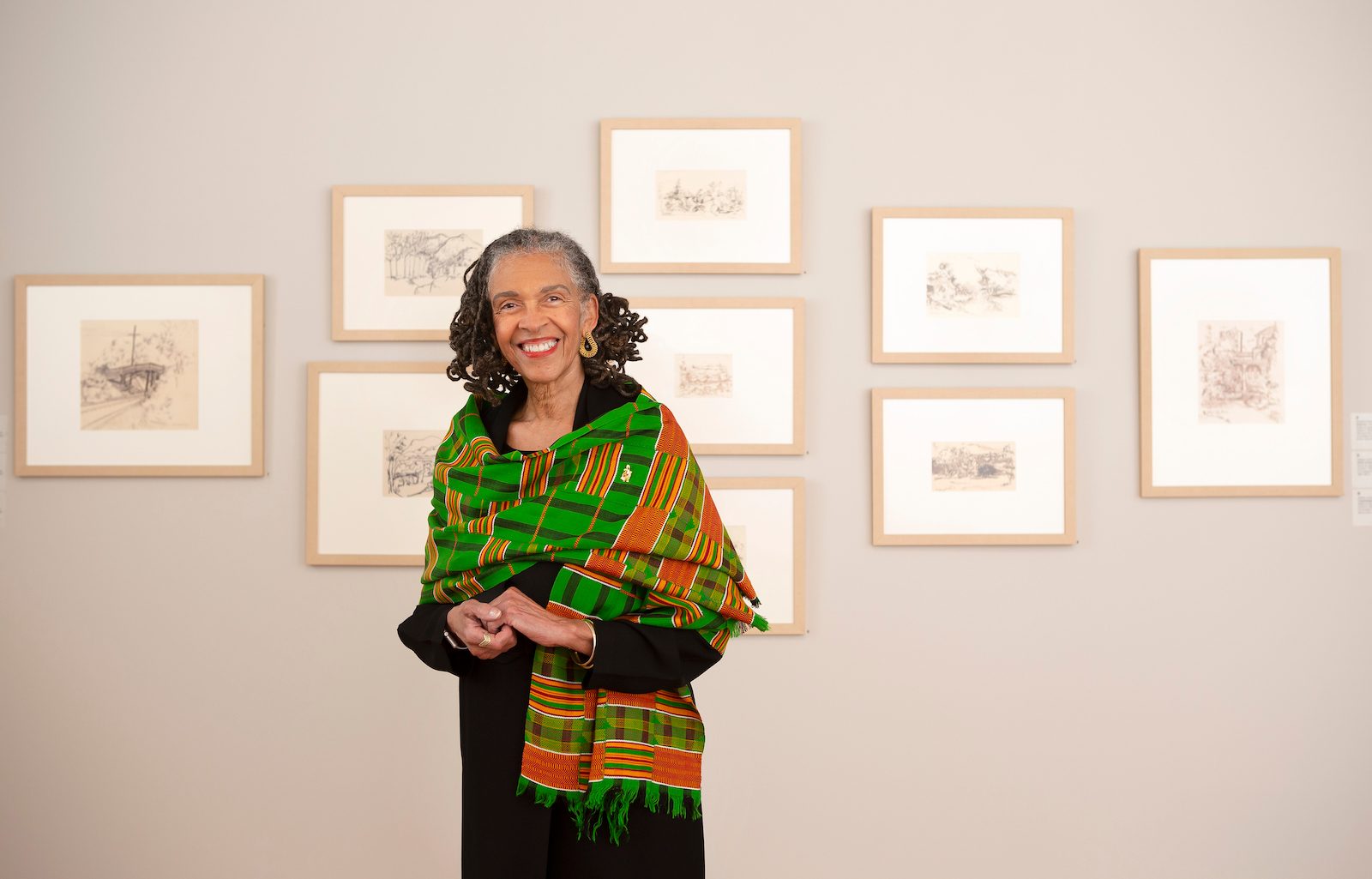 The pioneering scholar of intersectionality helped usher in a more diverse faculty, power up collaboration and research and launch interdisciplinary, arts-tech centered programs.
By Jessica Weiss '05
In 1968, Bonnie Thornton Dill was a recent college graduate working in low-income communities in Brooklyn, New York, hearing from women how access to birth control could improve their lives. Approved nationwide five years earlier, the pill wasn't widely available outside of middle- and upper-class communities. From Brownsville and East New York to Coney Island, women—many of them Black and Latina—told her how unplanned pregnancies had led them to drop out of school, lose their jobs and struggle to put food on the table for the children they already had. 
Thornton Dill, who had been working on issues of poverty and inequality, joined a novel project funded by the City of New York to set up family planning clinics in a number of these communities, which would provide reproductive healthcare and access to contraception. But when a number of prominent activists began accusing birth control advocates of promoting "Black genocide," Thornton Dill was torn. She knew that African American women throughout U.S. history had been sexually violated, denied the rights to rear their children and even subjected to harmful medical experiments without consent. 
The critics had every reason to be suspicious of government programs—but this time, she felt local women should define their own needs. 
"I knew the activists' concerns were significant, but I was listening to the women telling their own stories," Thornton Dill said. "And, well, I ultimately felt that the women should be heard."
The experience broadened her thinking on race and class to include the way they intersect with gender and informed the course she ultimately took as an academic focused on Black women and families. Her pathbreaking scholarship helped lay the groundwork for a field now widely known as "intersectionality" and birthed new insights about the roots of oppression and how to address them, leading her to work alongside feminist and social justice icons like bell hooks, Gloria Steinem, Angela Davis and Dolores Huerta.
After 11 years at the helm of the University of Maryland's College of Arts and Humanities, Thornton Dill will step down in June. The first Black woman ever to serve as dean of the college, she has helped usher in a more diverse faculty, power up collaboration and research across the college and university, and launch interdisciplinary, arts-tech centered programs, including the campuswide Arts for All initiative. At a time when the practical utility of a liberal arts major is frequently questioned, Thornton Dill has been outspoken in her belief that artistic and humanistic disciplines are more necessary than ever—and that the college's graduates are leaders of the future. Her deanship caps over three decades at the university. 
"Bonnie has always, always been committed to an agenda of social justice and equity, before these words were even really used," said Ruth Enid Zambrana, professor in the Harriet Tubman Department of Women, Gender, and Sexuality Studies and distinguished university professor, who has worked alongside Thornton Dill for five decades. "That informs everything she does and it's part of why she is leaving such an amazing legacy for the college, which stands strong as she departs."  
Questions of Identity
Thornton Dill's early life was spent traversing boundaries of race and class. She grew up in the 1950s as the child of a pharmacist father and an English teacher mother in the Black working- and middle-class Chicago South Side neighborhood of Englewood. Unlike any of her neighborhood friends, Thornton Dill attended private school: the esteemed, progressive, largely white University of Chicago Laboratory School, where—soft-spoken but a natural leader—she was elected class president her senior year.
She entered the University of Rochester in 1961 as one of just three Black undergraduates, and among the first ever to live in the dorms. One day some white friends put her on the spot about what she thought of a campus talk by the Black nationalist leader Malcolm X. "It was a very uncomfortable position to be in," she said, "but it was also something that really got me thinking about what was going on in the country and where I fit in all of it."
Evolving examinations of her own identity led her to volunteer with a "Friends of SNCC" chapter at Rochester to fundraise for the Student Nonviolent Coordinating Committee members taking part in sit-ins and other direct actions in the American South to protest segregation.
A few years after graduation, while working as a counselor for disadvantaged students at City University of New York, she was offered an opportunity to teach a class on the Black family as an adjunct faculty member at Baruch College. Daniel Patrick Moynihan, assistant secretary for policy planning and research at the Department of Labor, had just published his influential, controversial report "The Negro Family," which argued that the rise in Black single-mother families was a central reason for economic and political inequality for Black Americans—findings contradicted by Thornton Dill's own experiences and growing understanding.
Defining "Intersectionality"
She spent much of the 1970s at New York University as a graduate student in sociology. Her eventual doctoral dissertation would focus on Black female domestic workers—specifically the strategies they used to manage work and family and how factors like race and class powerfully played into their self-image and sense of belonging. (The dissertation was published in 1994 as a book.) 
Thornton Dill was hired at Memphis State University in 1978 as an assistant professor of sociology, eventually gaining tenure and full professor status. There, she helped organize a small working group of women professors of sociology from around the country in the emerging field of race, class and gender studies.
"Bonnie led us in her kind, graceful way," said Zambrana, a participant in the group. "She had a real belief in the potential for our scholarship to change policies and institutions and benefit the people and communities that were most disadvantaged." 
Thornton Dill founded the Center for Research on Women at Memphis State with fellow sociologists Elizabeth Higginbotham and Lynn Weber in 1982, directing it until 1988. One of the first ever institutional homes for studies of race, class and gender, the center focused on ushering forward the next generation of scholars and activists studying and working for social change for women of color and working-class southern women.
"What she was doing was the work of community organizing—organizing an intellectual community," said Patricia Hill Collins, distinguished university professor emerita at UMD and the former president of the American Sociological Association, who took part in a summer institute in 1982. "The center gave us access to people and ideas and relationships, and the language to think about intersections and the connections between things."
By the time the term "intersectionality" became widely known in the '90s, Thornton Dill had been working to bring it into the academy for decades.
A Leading Terp
Thornton Dill came to Maryland in 1991 as a professor in the women's studies department and an affiliate professor of sociology and African American studies—and soon made her mark across campus.
Though a "reluctant administrator," others recognized her experience and leadership skills, and she accepted an opportunity to co-direct a Ford-Funded interdisciplinary research and study group examining Black women and work. Later, she helped found and direct the Consortium on Race, Gender and Ethnicity, an interdisciplinary research center, and served on myriad campus committees. Over time, she "learned to enjoy" leadership and "thrive there," she said, namely trying to "find ways to open spaces for previously excluded voices."
She became chair of women's studies in 2003 and helped lead the department to national prominence—it was among the first universities in the United States to offer a doctoral degree in the field. During her tenure, it solidified its reputation as a hub for intersectional scholarship—especially in Black women's studies—and grew substantially in both size and stature. (In recognition of the legacy of work on Black women and intersectionality, the department became the Harriet Tubman Department of Women, Gender, and Sexuality Studies in 2020.) 
In 2011, after then-ARHU Dean James Harris announced he was stepping down after 14 years, the university turned to Thornton Dill to lead the 14-department College of Arts and Humanities, citing excellence in her "cross-disciplinary work … educational innovation … [and] interdisciplinary collaboration."  
While dean, she was part of a group of campus leaders called the North Stars that worked to bring to life Frederick Douglass Square on Hornbake Plaza, which features a dramatic 7 1/2-foot statue of the Maryland native and abolitionist. She was also tapped to chair an 18-person working group to consider a new name for Byrd Stadium, the university's football stadium, named after a former UMD president and alumnus who was also a committed segregationist. It was renamed Maryland Stadium.
Provost Jennifer King Rice said Thornton Dill leaves an incredible legacy of leadership at the University of Maryland.
"The university has been so fortunate to have Bonnie's vision, leadership and expertise," Rice said. "From her academic contributions to her prominent role in so many other important initiatives, the University of Maryland is stronger because of her." 
Success as Dean
Thornton Dill made advocacy for the arts and humanities a priority. "It felt a bit like spreading the message of intersectionality," she said. The arts and humanities "didn't have high visibility and aren't always well understood."
During her first year, political activist Angela Davis and linguist Noam Chomsky were among speakers in the ARHU Dean's Lecture Series, which invites artists and public intellectuals to visit the college for timely dialogue. She also made key investments in communication staff to promote the college by highlighting faculty achievements and the ARHU student experience. 
Increased support for research was another focus. She hired the first ever associate dean for research, interdisciplinary scholarship and programming and additional staff to help secure federal and foundation grants. Under her leadership, the college has increased external support for research by over 50 percent. Through five active projects, the Andrew W. Mellon Foundation is currently providing $12 million in funding for numerous initiatives—the African American History, Culture and Digital Humanities initiative is shaping the national discourse on the field of Black digital humanities; other projects are at the intersection of digital humanities and cultural studies. 
Thornton Dill also sought to make the college a beacon of equity and inclusion—an effort that has resulted in a substantial increase in faculty that are Black, indigenous and people of color. ARHU recently named its first ever associate dean of diversity, equity and inclusion. 
Halfway into her deanship, Thornton Dill convened a committee of faculty to hear their hopes for the future of the arts on campus. Together, they worked to develop a proposal that would bring upgraded technology, investments in programming and for the arts to be woven into the very fabric of life on campus. That paid off: in his April 2021 inaugural address, new UMD President Darryll J. Pines announced "Arts for All" as one of his five key initiatives. The initiative expands arts programming across campus and bolsters interdisciplinary offerings, while creating new opportunities for students and faculty to fuse the arts, technology and social justice. 
In just the past year, ARHU has received $11 million in donor support for Arts for All. That's part of $80 million the college raised towards the university's "Fearless Ideas" campaign, surpassing its goal. 
"Bonnie departs our campus with a vision realized," Pines said. "The Arts for All program will make sure every one of us has access to inspiring art in all its forms."
Through a close collaboration with College of Computer, Mathematical, and Natural Sciences Dean Amitabh Varshney, Thornton Dill also helped bring to life a new Immersive Media Design (IMD) major. IMD teaches students in both art and computer science to use technologies like virtual and augmented reality, computer graphics and coding for new ways of displaying and experiencing art virtually, 3D modeling and more. Varshney said it was Thornton Dill's unique "ability to transcend disciplinary boundaries" that made it possible.
Committed to demonstrating the career opportunities available to arts and humanities students, Thornton Dill also oversaw the launch of a new arts leadership minor that helps students learn entrepreneurship and make a sustainable career in the arts. It's just one of several new majors and minors that have been introduced under the umbrella of ARHU's "Be Worldwise. Get Worldready." initiative that blends new and reimagined courses, integrated academic and career advising and access to internships, alumni networking and other opportunities across the region. Thornton Dill has also launched robust discussions about the future of the humanities Ph.D. and is engaging the college in discussions of new ways to assess the work of arts and humanities scholars.
To students, "Dean Dill" embodies accessibility, kindness and a dedication to listening to their concerns. "She really cared," said history alum Rehan Staton '18, who credits Thornton Dill with helping make his dream of attending Harvard Law School "a reality." 
"Whether we're talking about academics, emotional or financial challenges, she was in my corner for each avenue and she fostered a college that truly cared when students brought issues to her attention," Staton said. 
President Pines added that he was personally grateful for Thornton Dill's leadership as well. She "shared her wisdom and friendship with me for many years," he said. 
 A Continued Legacy
After the end of her deanship, Thornton Dill hopes to rest and spend time with family and friends. But she also plans to continue working to find ways to "open spaces for previously excluded voices," including as a co-leader on a number of Mellon-funded research projects in ARHU. Breaking the M.O.L.D., a collaboration with the University of Maryland, Baltimore County and Morgan State University, is working to ensure faculty of color in the arts and humanities have a pathway to the highest levels of leadership in higher education.  
Events of recent years have brought into sharp focus for Thornton Dill the "urgent and ongoing need" for studies of systems of power and inequality. Seeing intersectionality and critical race theory demonized in public discourse both confirms the steep barriers to structural change—and also indicates that these concepts have had an important impact on the way many understand the American story. 
"It's been surprising to me to see scholarly work that I was deeply engaged in become both a progressive slogan and a right-wing weapon," she said. 
In May, Thornton Dill will host her final Dean's Lecture Series, with Pulitzer Prize-winning journalist Nikole Hannah-Jones, the creator of the landmark—and widely debated—1619 Project. Hannah-Jones has been a vocal opponent to efforts across the U.S. to ban teaching about racism and inequality.
Despite the current backlash, Thornton Dill said she is gratified to see how, for many young people, intersectionality has become deeply embedded in thinking about inequality. She's also been pleased to see the language of systemic racism move into everyday speech about race. 
"This work has clearly made an important difference," she said. "Despite targeted efforts, erasing its impact will be difficult, if not impossible."
Photo information (from top to bottom): Main image by John T. Consoli at the David C. Driskell Center; photo from Memphis State University of Bonnie Thornton Dill (back row, far right) and Ruth Enid Zambrana (back row, middle) courtesy of Zambrana; photo of Bonnie Thornton Dill at the unveiling of the Frederick Douglass Square on Hornbake Plaza, 2015, courtesy of John T. Consoli; Bonnie Thornton Dill with history alum Rehan Staton at the 2018 commencement, courtesy of Nicky Everette.