"A Second Life and a Second Identity"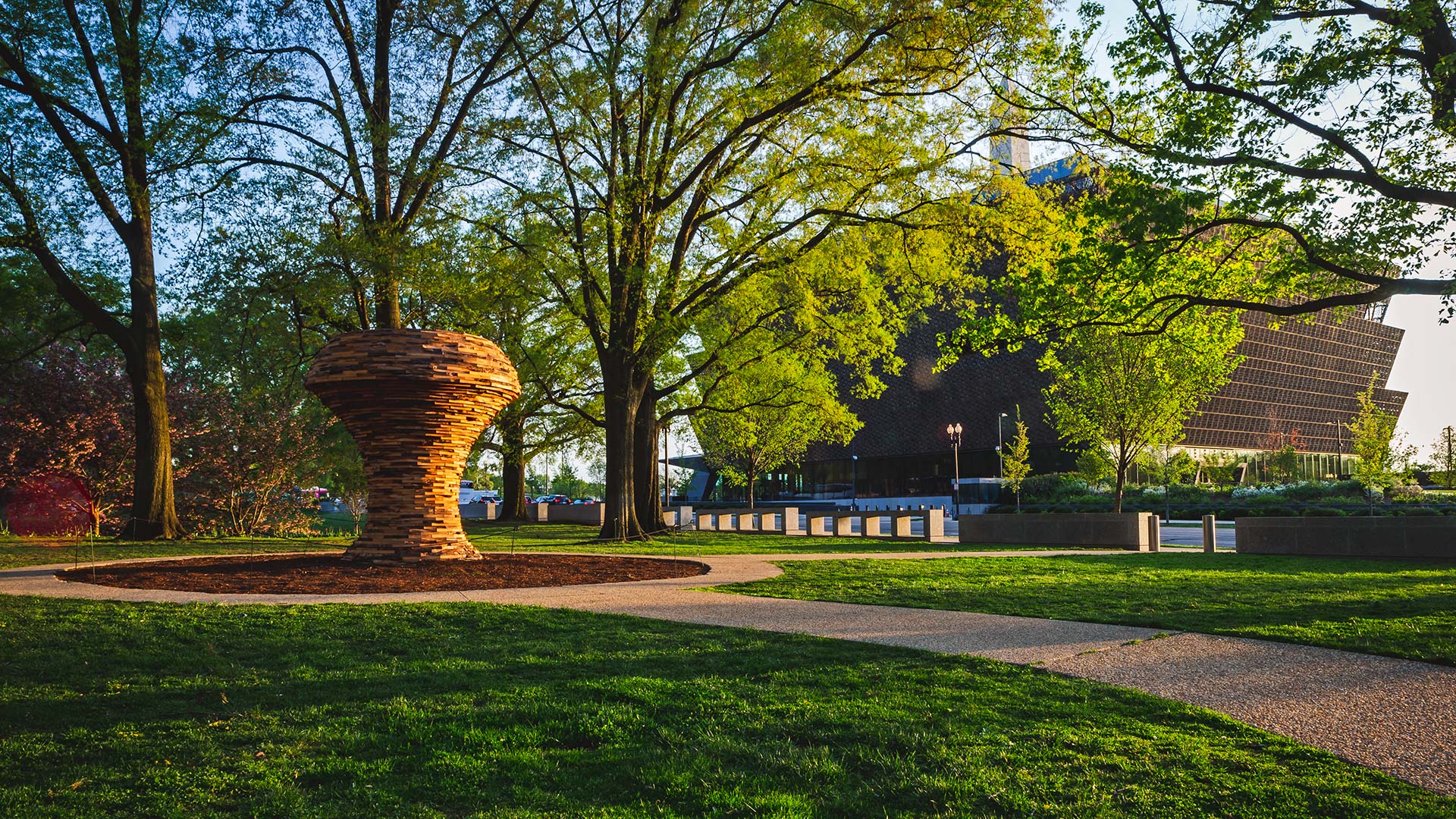 Art professor's wood sculptures featured in new Smithsonian Gardens exhibit
By Sala Levin '10 | Maryland Today
Stand at the corner of 14th Street and Constitution Avenue in downtown D.C. long enough—trust us, it won't be long at all—and you'll notice tourist after tourist, phone camera at the ready, walking up a little path outside the Smithsonian National Museum of American History. Their destination: a giant mushroom sculpture made of slabs from five kinds of trees.
Created by UMD art Professor Foon Sham, "Mushroom," with its varying colors and textures, isn't just a distinctive photo op backdrop. It's a prominent part of a new Smithsonian Gardens exhibition with installations at 14 sites across the Mall running from last month through December 2020. Sham has three pieces in the "Habitat" exhibit, which highlights how protecting habitats is crucial to protecting the flora and fauna that rely on them.
When the Smithsonian approached Sham two years ago to be part of the exhibit, he settled on the mushroom form to emphasize how fungi, trees and soil share a symbiotic relationship, relying on one another for nutrients and other life essentials. He also appreciated mushrooms' underground networks of "thousands of interlocking strands … They're communicating to each other and supplying nutrients. They symbolize what we are doing today, that we connect to each other with phone and Internet."
Read the complete story in Maryland Today.
Image: In a new Smithsonian Gardens exhibit, Art Professor Foon Sham's "Mushroom" (top), "Arches of Life" (not pictured) and "Vascular Form XI, Unbound" (not pictured) represent different types of habitats. (Photo by John T. Consoli).