UMD Social Justice Day 2019 Awards
April 10, 2019 Art | Michelle Smith Collaboratory for Visual Culture | School of Languages, Literatures, and Cultures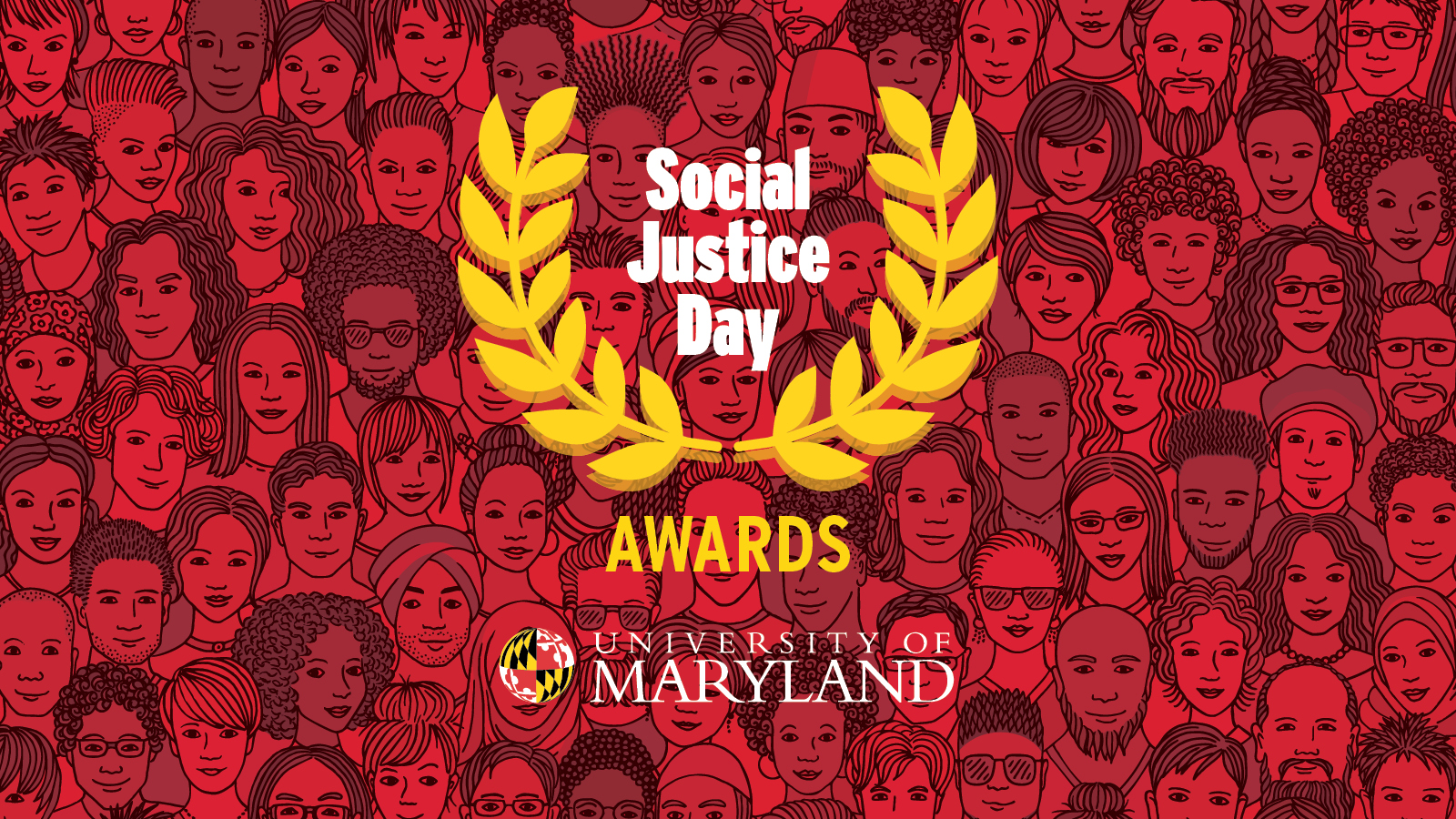 Inaugural awards recognize campus social justice initiatives.
Social Justice Day is an annual University of Maryland (UMD) event that brings the campus community together to engage with social justice issues through a variety of events. The work of building, implementing and sustaining social justice initiatives is an ongoing effort that extends beyond the day itself. The newly-established UMD Social Justice Day awards were created to celebrate and honor this ongoing work. The 2019 awards will recognize on-campus initiatives that increase awareness, engage others or change lives related to immigration, migration or refugee issues.
The UMD Social Justice Day Planning Committee selected the winners from nominations by students, faculty and staff across campus. The 2019 winners are:
Baha'i Chair for World Peace
The Bahá'í Chair for World Peace promotes a vision of world peace that considers the safety, health and happiness of every person in every corner of the world. Directed by Hoda Mahmoudi, the Bahá'í Chair addresses numerous social justice issues through courses, research, lectures, symposia, conferences and community outreach. One of their many initiatives is the lecture series on Structural Racism and the Root Causes of Prejudice. Since the series' founding in 2012, the series has featured nearly 30 leading scholars who explore solutions to racial prejudice.
Michelle Smith Collaboratory for Visual Culture
The Michelle Smith Collaboratory engages the campus community through initiatives that showcase how art is a tool for social connection and change. Lead by Director Quint Gregory and Associate Director Christian Cloke, the collaboratory has partnered with both the National Museum of African American History and Culture and the Riversdale House Museum on numerous archival and curatorial projects to make African American history more accessible to the public. For example, the collaboratory hosts transcribe-a-thons where participants help transcribe millions of documents pertaining to African-American history and culture.
George and Lisa Zakhem Kahlil Gibran Chair for Values and Peace
The Gibran Chair, directed by May Rihani, implements a variety of projects that emphasize the importance of social justice, equality and diversity. Among their initiatives is the Knowledge Center About Arab Women, or "HUB." HUB is a research and networking website for women and their allies in the Arab world. The site includes several groundbreaking resources, including directories of women leaders and pioneers in the Arab world, presentations on Arab women's leadership, a report on gender in Arab countries and a scholarly bibliography for further research on Arab women's leadership.
"Global Service in the Dominican Republic" course
This three-credit, winter term education abroad course a is a 12-day service learning program co-lead by Jazmin Pichardo, assistant director of diversity training and education in the Office of Diversity and Inclusion and Jeremy Gombin-Sperling, Ph.D. student in the College of Education. The course is based in Santiago de Los Caballeros in the Dominican Republic. Students work with Accion Callejera, a non-profit organization that provides social services for children who are navigating numerous social barriers, including homelessness, economic insecurity and racism. To date, students have contributed over 100 hours of service through activities such as tutoring, cleaning facilities and providing program support. Students return home with a new awareness of their social and cultural identities and report feeling more comfortable participating in difficult conversations around social justice issues.
"Learning Together/Aprendiendo Juntos" course
Created and taught by Ana Patricia Rodríguez, professor in the School of Languages, Literatures and Cultures, this course provides students the opportunity to work at Hollywood Elementary School in College Park tutoring children and teaching English to their parents. Students gain hands-on experience in education, social services, translation, communication and business. This course is the most recent example Rodríguez' distinguished career in community-engaged teaching and research, and informs her current book project on community-engaged and collaborative learning in U.S. Latina/o studies, which will discuss many of the best practices she has used in this class, including the use of oral histories, digital storytelling.
Peer to Peer UMD program
Peer to Peer is a student organization that partners with the International Rescue Committee to provide tutoring and mentoring for refugee youth in Prince George's County. Founded in 2017 by Shivani Shah '19, Spanish and biological sciences, the program has about 30 mentors who work with approximately 40 refugee students at area high schools, middle schools and public libraries, providing everything from homework help and SAT-preparation to weekend trips and outings. The program has been immensely successful. Nearly all of the refugee youth who receive tutoring are on the honor roll now.
UMD Undocuterps
UMD Undocuterps provides year-round support and advocacy to undocumented students through numerous resources, including activities for community-building and support, trainings and technical assistance. Through the efforts of the Program Coordinator Laura Bohórquez Garcia, UMD Undocuterps addresses the needs of undocumented students and provides them with the resources and support they need to be successful. In addition to supporting undocumented students, the Undocuterps website provides timely educational resources to the campus community, including a recent primer on "Black and Undocumented: 5 Ways We Can Stop Erasing Black Folk from Conversations Around Immigration."
Social Justice Day Awards will be presented on Thursday, April 11, at 12:30 p.m., in McKeldin Library, room 6137 (Special Events Room).
For more information about Social Justice Day, including the keynote lecture featuring Diane Guerrero in conversation with UND Undocuterps, visit the event website.